SAP HCM
SAP Human Capital Management (HCM) is an integrated personnel management system. In this Wiki article we show which functions and which purpose HCM has.
SAP HCM: Backgrounds, Functions, and Future Orientation
As a fully-fledged, comprehensive human resources management system, SAP HCM provides all the functionalities required for personnel management. All personnel issues are brought together centrally. On this page we answer all important questions about the HR solution. We are also looking at the future orientation of the SAP system world in the area of human resources management.
What is SAP HCM?
SAP HCM (SAP Human Capital Management) is a human resources management system. As the successor to SAP HR, it contains all functions that are relevant for personnel administration, payroll, applicant management, and personnel development. In addition, SAP HCM links personnel management and personnel management with multi-level application and approval processes.
In addition, the system is closely linked to the organizational structure, whereby hierarchy-dependent processes can be automated. Adaptation to company-specific conditions is possible by integrating numerous submodules. We would like to look at these in detail below.
Which modules does SAP HCM contain?
SAP HCM is an extremely comprehensive personnel management system. Describing all components of the HR solution would go beyond the scope of this encyclopedia. We therefore concentrate on the most important modules, to which all partial modules and additional functions are subordinated:
Personnel Administration (PA)
Personnel Time Management (PT)
Payroll Accounting (PY)
Organizational Management (OM)
Personnel development (talent management)
Training and Event Management (PE)
Recruitment (PB)
In this article you will read how to best attract customers and retain them in your company: SAP CRM
Personnel Administration (PA)
PA, Personnel Administration, is where all the threads of human capital management come together. The central point here is the personnel master record, which exists for each employee. This "digital personnel file" replaces paper-based procedures and ensures that all personnel data is always available in up-to-date form.
In addition to general employee master data such as personnel number, name, and address, information such as organizational unit (department), pay scale, and pay scale group is stored. Each of these entries is assigned a validity period, which creates a history over time.
This temporal allocation ensures a high degree of transparency and traceability of changes. All in all, SAP HCM significantly relieves the HR department of administrative tasks, leaving room for strategically more important tasks such as recruiting and personnel development.
An important and therefore worth mentioning sub-module of Personnel Administration is "Personnel Cost Planning and Simulation (PA-CP)". Based on personnel master data, payroll results and other data sources, PA-CP enables transparent and systematic personnel cost planning.
In addition, various scenarios such as salary adjustments or personnel arrivals and departures can be simulated. Restructuring of the organization can also be taken into account in the planning. In addition, the planning results can be transferred directly to Controlling (CO) as the basis for financial planning.
Personnel Time Management (PT)
Personnel time recording is now mandatory in almost all industries. In practice, this is done either by employees maintaining their working times themselves or via time recording terminals. In addition, many companies have time administrators who make manual entries or corrections. All three approaches are supported by SAP HCM PT.
In order to achieve the highest possible degree of automation, time recording via terminals or comparable technologies is recommended. The time postings are transferred immediately to the SAP system via interfaces, where they form the basis for subsequent processes such as payroll accounting.
Outside the business premises, browser-based time recording in self-service is conceivable. SAP also offers this option. In addition, SAP HCM supports classic workflows in personnel time management - for example, requests for flexdays, supplements and corrections.
Payroll Accounting (PY)
The third important task of personnel administration is payroll accounting. All relevant information is available in SAP HCM. This applies to master data such as salary groups as well as working hours, various absence times, flexible salary components and special payments. Thanks to regular updates, payroll accounting always complies with legal requirements.
Additional security is provided by simulation runs, which can be carried out before the actual payroll run. Any errors can be corrected in advance. SAP HCM PY also supports different payroll periods. This is particularly beneficial for internationally positioned companies.
Organizational Management (OM)
In the SAP HCM environment, Organizational Management is used to map the entire enterprise structure with its organizational units. The module also supports the analysis of process organization and personnel analyses for personnel planning. If organizational changes are imminent, they can be planned using SAP HCM OM. Last but not least, this module forms the basis for functions such as career planning and applicant management.
Personnel development (talent management)
The main task of talent management in SAP HCM is to compare vacant and open positions with existing human resources. This is done on the basis of defined criteria such as qualifications and personal interests. At the same time, these functionalities allow individual career and development plans for employees to be mapped in the system together with the associated target agreements.
It should also be mentioned that talent management comprises further sub-modules. These include Performance Management (PEM) and Learning Solution (LSO). The cloud-based solution SAP SuccessFactors, which can be integrated into SAP HCM, is now regarded as the successor to the talent management module. In the medium term it can even be assumed that HCM will be replaced step by step by SuccessFactors. (More information in section "SAP HCM vs. SuccessFactors")
Training and Event Management (PE)
Training and Event Management in SAP HCM is closely linked to Personnel Development. It supports the planning, implementation and evaluation of events such as training and further education. Thus, a complete event catalogue including the lecturers, rooms and documents can be stored in the system. Existing events can be used as templates and can be scheduled recurrently. It is also possible to receive registrations.
At the end of the event, SAP HCM PE supports cost center assignment and invoicing. It is also helpful to use a function that enables you to transfer qualifications directly to HR master data. If necessary, a training history is automatically generated for each employee.
Recruitment (PB)
The HCM module Recruitment supports companies in the management of vacancies. The transfer of job requirements and job descriptions to online platforms is also possible with PB. Numerous functions such as scheduling job interviews or application deadlines can be created automatically and tracked in a clear manner. The entire hiring process can be individually mapped.
Separate master data administration is available for the candidates. Thus, it is not only possible to build up a pool of applicants, which can be used if necessary. If you are hired, it is extremely easy to transfer the applicant master data to the newly created HR master data.
Other Submodules of SAP HCM
As mentioned at the beginning, the main modules mentioned above contain several sub-modules that can be used to map specific tasks in the HR environment. The following building blocks should be mentioned in particular:
ESS/MSS: Employee Self Services/Manager Self Services
Structural (dynamic) authorization assignment
personnel appraisals
ESS and MSS massively relieve the personnel department by digitizing workflows. For example, it is possible for employees to trigger processes such as working time corrections, travel requests, or training bookings in the system themselves. Access points can be for example the SAP Netweaver Business Client or the Fiori Launchpad. Fiori applications can even be used on mobile devices.
Security and efficiency are also ensured by the structural authorizations thatcan be used in conjunction with Organizational Management (OM). In contrast to the standard SAP role and authorization concept, authorization is assigned dynamically rather than statically.
The functional principle: Authorizations are assigned to jobs within the organization. If an employee takes this position, he automatically receives the appropriate authorizations. This is not least a clear plus point with regard to IT security.
SAP HCM also makes it possible to map employee appraisals. The data stored in the system forms the basis for salary adjustments, variable salary components or bonuses. The appraisals can also be used in conjunction with Training and Event Management to ensure the quality assurance of continuing education events.
What are the benefits of SAP HCM for enterprise HR?
If one looks at the tasks of HR departments, these are still predominantly of an administrative nature today. Paper-based personnel files are kept, vacation requests are processed on paper and even working hours are recorded manually. However, in times of skills shortages and limited human resources, it would be much more important to focus on the strategic objectives of human resources management.
SAP HCM provides important support in two ways. On the one hand it enables the optimization and digitalization of personnel processes, on the other hand it contains numerous tools that are important from a personnel strategic point of view.
The simplification and streamlining of administrative processes is achieved among other things by the following HCM features:
Digital vacation request (e.g. via web browser) incl. approval workflow
Central, system-supported maintenance of all relevant personnel master data
Consistent data records and traceable changes (history)
Complete data transparency
Partial automation of payroll accounting
Simplified time recording (corrections also possible in self-service)
Integration with other SAP modules such as FI/CO
The introduction of SAP HCM is also supported by the strategic components of the system. The following aspects should be mentioned in this area:
Tools for effective and individual employee development
Comprehensive talent management
Support of modern channels in recruiting
Support of onboarding processes (induction)
By the way, SAP HCM does not have to be introduced with its complete range of functions. Many companies only start with the most important main modules such as personnel administration, payroll accounting and organizational management. In the course of time, further modules that are particularly relevant for the company will be added.
SAP HCM vs. SuccessFactors
As far as the HR sector is concerned, SAP is pursuing a strategy that is clearly moving in the direction of the modern cloud solution SAP SuccessFactors. It was announced that HCM would be completely replaced by SuccessFactors in the long run.
Not only the technological orientation is remarkable, but also the new language usage. SAP no longer calls company employees "resources" or "human capital," but "success factors. But what are the technical differences between the two solutions?
SuccessFactors was originally a stand-alone US company that offered a cloud-based talent management suite with analytics and collaboration capabilities. SAP took over the company in 2011 and since then has massively enhanced its functionality.
SuccessFactors is now a complete HCM solution from the cloud. It contains all functions from the classic SAP HCM. In addition, however, some other innovative features are available. To call are:
(E-)Recruiting: supports a collaborative, objective and mobile selection process
Onboarding: configurable onboarding process involving new employees, hiring managers and an onboarding buddy
Compensation: maps all compensation processes, central element is a compensation profile including salary history and positioning
Performance & Goals: controls target agreements and monitoring of target achievement for performance evaluation
Learning: Learning platform that is linked to numerous other modules (e.g. goal management and onboarding); can be used on the go
Succession and Development: controls and automates succession planning activities
Employee Central: responsible for master data administration and for mapping personnel administration, organizational management, absences and payroll accounting (optional); basis for integration with on-premise solution
SAP JAM: communication and collaboration platform for employees, similar to a social network
Analytics: enables the creation of reports for all SuccessFactors modules
All in all, it is clear that SAP is focusing its HR innovations on SuccessFactors. The decision to introduce the platform can therefore be described as future-proof.
SAP HCM under SAP S/4HANA
SAP HCM no longer exists in the new software generation SAP S/4HANA. However, companies that have previously used HCM integrated with other modules can still migrate to SAP S/4HANA. This is made possible by so-called Compatibility Packs, which also make the usual functionalities available under SAP S/4HANA. However, it is important to know that all Compatibility Packs can only be used until the end of 2025. Until then, SAP will offer alternatives.
A compromise has been announced for companies that cannot or do not want to use the cloud-based SuccessFactors. It bears the name "SAP HCM for S/4 HANA" and will be available from 2023. In contrast to ERP 6.0, this solution will not run integrated with SAP S/4HANA. It must be run on a separate server, often referred to as a sidecar.
With regard to the functional scope, the solution will not differ significantly from today's SAP HCM. Support for this compromise solution is also expected to be limited. According to current reports, it will end in the year 2030. If nothing changes in this strategy, there is no way around the introduction of SAP SuccessFactors in the long term.
Conclusion: SAP HR products ensure future security
The challenges in personnel management are now manifold. One of the most pressing problems of our time is the shortage of skilled workers. Not every company succeeds in filling vacant positions quickly with suitable candidates. In addition, employees in payroll accounting and administration still spend too much time on routine tasks. Reporting also needs to be optimized in many places, which means that personnel strategies are not always based on well-founded figures. Last but not least, employee collaboration offers room for improvement. Although we live in the age of modern communication possibilities and social networks, voting in companies still takes place predominantly by e-mail.
All these challenges can be met with SAP HCM and in particular with the SuccessFactors successor solution. SAP's HR products enable digitization and automation of HR processes, intelligent recruiting and talent management, and improved collaboration through social and mobile ERP. Under the "Analytics" flag, flexible reports and forecasts can also be generated that can significantly optimize strategic decisions in human resources.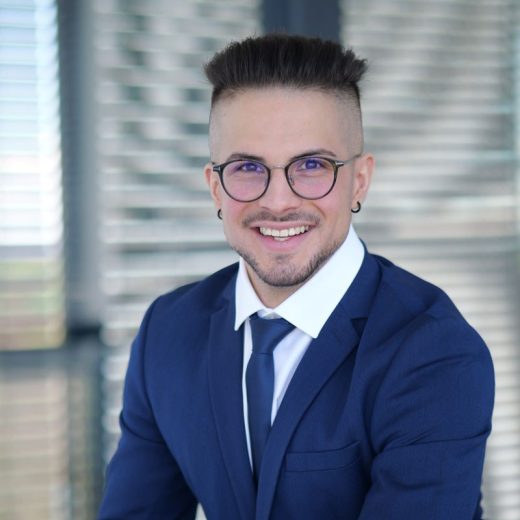 Emre Cetin, Sales Executive
Do you have any questions? I will be glad to help you.
+41 41 784 19 31
We are your partner for all questions and requirements around SAP. Contact us for a personal conversation.